⭐ FREE Shipping on All Orders + 6 Month Money-Back Guarantee ⭐
Hey, beautiful...
Thanks for stopping by and learning more about our mission.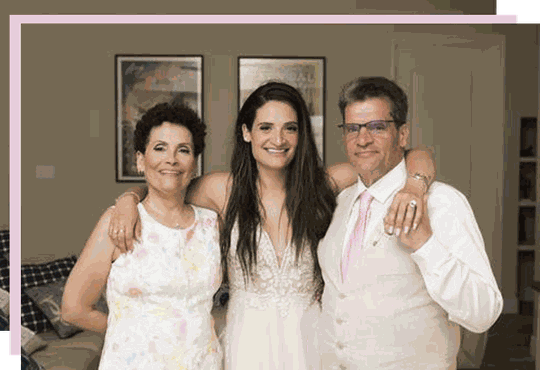 The Eden Beauty story begins with family.
Hi, I'm Laura, the Founder of Eden Beauty Skin Care.
I began developing this skin care line for my mom, Isabel.
She once asked me, knowing I was obsessed with skincare and makeup, if I had any
recommendations for these annoying dark spots shewas starting to see pop up on her cheeks, upper lip, and tops of her hands.
So we went together to that fancy higher-end makeup/skincare/hair care store, the one with the black and white walls, that you see inside pretty much every mall in America...And we looked through the tons of options, and selected an "all in one" kit that cost her about $400.
Now, my mother taught me to be responsible with my money, so this was no easy splurge for her... But the packaging said this was "doctor approved," so I truly thought it could make a difference for her, and told her it was worth it.We went back to her house and she starting using the stuff.
We knew it wouldn't work magic overnight, but she was dedicated to using it every day.Unfortunately, that expensive line didn't do too much for her, in fact, it made her skin dry and patchy. It eventually ended up in her big drawer of tubes, tubs, and creams. The worst part of all of this was her ongoing disappointment. Having her hopes built up very high, and then shot down. Catching her glimpsing herself in the mirror and running her fingers over the spots she didn't like...
...I hated seeing that. So, for every holiday gift, and sometimes for no reason at all, I'd get her another product to try out, thinking, maybe THAT will be the one to make a difference. None did.
I knew if my mom was having this issue, then other women were too. And I have LOTS of freckles myself, dealt with many months of hyper-pigmentation every time I got even a tiny pimple, and when I go out into the sun, my face dots up like crazy. So this was definitely a concern of mine, especially as I get older.
I decided to take a leap and create something for my mom, for me, and for women and men everywhere who want to naturally, and finally see a solution to their dark/age spots and patches.I worked with who I consider to be the finest product formulators in the country. I developed custom formulations and was VERY NIT PICKY about every detail.
Years of research and perfecting. No added fragrance, no filler, no weird stuff. Just natural ingredients that research has demonstrated to eliminate the appearance of dark spots. And while 99% of what you see in stores all comes from the same labs, but just gets put into different bottles...
Nothing in the world is exactly like the Eden Beauty line.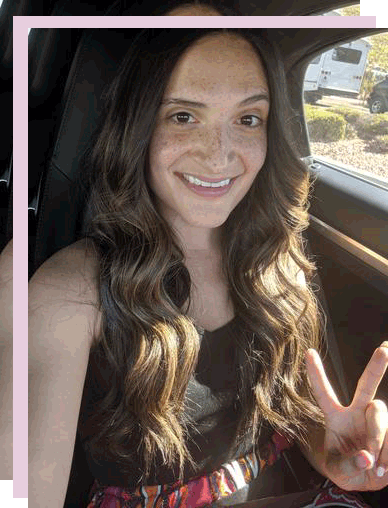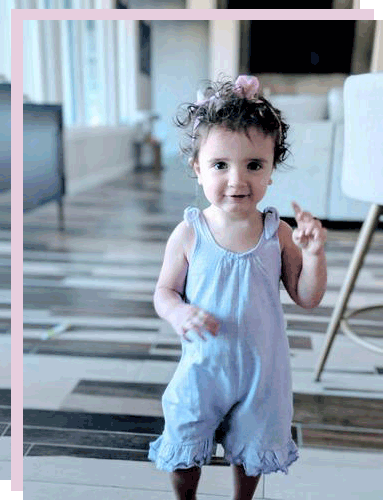 And, since this whole endeavor was inspired by my mom, I decided to name the brand after my 1 year old daughter, Eden, so that she is included in the fun, too. :)
So when you join us and become a part of the Eden Beauty family, you join 3 generations of womenwho believe that:
Anyone, with perseverance and positivity, can accomplish anything.
We all deserve to look and feel amazing.
Your skin, even though it is your top layer, is no superficial matter.
And to elaborate on that final point for a second, consider this:
If you find yourself looking at dark spots, patches, or blotchy skin in the mirror…
Or on your hands, arms, underarms, or legs…
It's actually a pretty serious matter.
Because suffering from "aging-looking skin" has been linked to a lack of energy, depression, and even shorter life expectancy.
When you lean in the mirror and think, "I look older…" or "I don't like this…"
You know how draining it can be.
I saw it first hand in my own mother, dealt with it every time I had a dark spot after a pimple, and very much feared dealing with it more and more as I got older.
On the flip side of dealing with aging-looking skin...
Having more youthful-looking skin has linked to feeling more energetic, happy, and even living longer.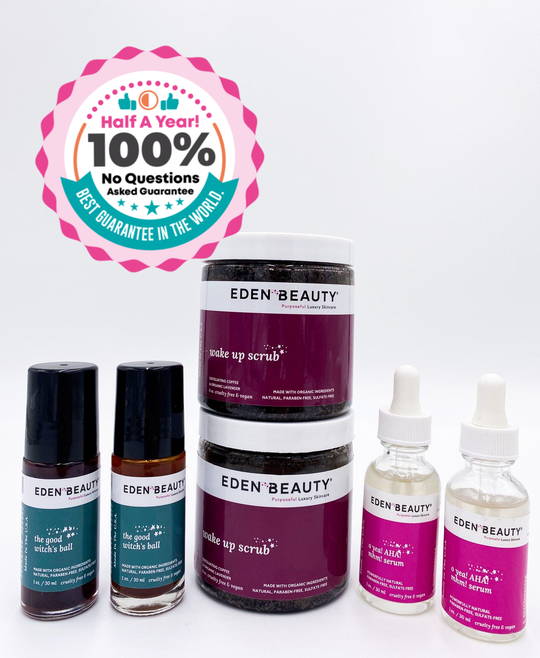 Isn't that wild?
EVEN LIVING LONGER!
A longer, happier life... Sign me up, right?
So this is definitely no superficial matter.
In fact, it is very important to your overall mental and physical health...
And the length and quality of your life.
Think about it, those minutes you spend in the mirror, leaning forward, analyzing yourself, thinking…
"I look older," or "I'm not happy with this'…
You can instead totally flip that experience on its head.
Picture yourself looking in the mirror and seeing bright-looking, firm-looking, spot-free-looking skin...
Feeling a surge of energy and heading out to tackle the day.
You ARE worth that.
And you can have it more easily than ever.
This is exactly what we have given to my mom and other men and women throughout the country.
And we would be thrilled if you joined us, and gave us a try today.
We care so much about the quality of the products we produce, and the level of customer service you'll receive when you join the Eden Beauty family.
And we want you to receive that 10-star experience starting right now.
Developing Eden Beauty has taught us that through nature and science, we're given everything we need to look and feel beautiful, and thatit is not just possible, but simple, to turn back the signs of aging in a visibly dramatic way.
It is in this approach that we have developed what we believe to be the BEST system for eliminating the appearance dark spots from the comfort of home for a comfortable price.
No scary peels that cost $500 or more, no individual tubs of "who knows what" that cost $200 and don't get the job done. No lasers that hurt like crazy and leave skin more sensitive and prone to damage.
Just potent, organic, cruelty free, natural, plant-based, Vegan skincare that will give you a difference you can quickly see in the mirror.
All Eden Beauty products are cruelty free, Vegan, paraben and sulfate free, natural, and 100% produced in certified facilities in the United States of America.
We pride ourselves in using a bare minimum of 40% active ingredients in all of our products. This is what research has shown to reinvent the look of your skin in a way you can truly see when you look in the mirror, without waiting for months and months.
We also pride ourselves in being a direct-to-consumer brand. That means you can only purchase our products online, and you save a lot of money over department store products, who need to pay a middleman. We interact with you directly, and we always listen to our customers needs.
You might have seen us on...